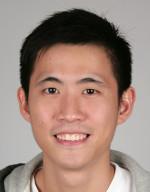 Trodusquemine enhances A beta(42) aggregation but suppresses its toxicity by displacing oligomers from cell membranes
Bacterial production and direct functional screening of expanded molecular libraries for discovering inhibitors of protein aggregation.
Characterizing Individual Protein Aggregates by Infrared Nanospectroscopy and Atomic Force Microscopy
Endogenous metabolites rescue a C. elegans model of Alzheimer's disease by triggering a heat shock response
Chemical and mechanistic analysis of photodynamic inhibition of Alzheimer's beta-amyloid aggregation
Stabilization and Characterization of Cytotoxic Aβ40 Oligomers Isolated from an Aggregation Reaction in the Presence of Zinc Ions.
SAR by kinetics for drug discovery in protein misfolding diseases.
– Proceedings of the National Academy of Sciences of the United States of America
Microfluidic deposition for resolving single-molecule protein architecture and heterogeneity
Cholesterol catalyses A beta 42 aggregation through a heterogeneous nucleation pathway in the presence of lipid membranes
Chemical Kinetics for Bridging Molecular Mechanisms and Macroscopic Measurements of Amyloid Fibril Formation
– Annual review of physical chemistry