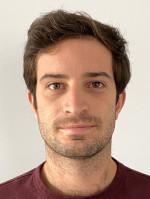 EMBO Reserch Fellow
Platform for Orthogonal N-Cysteine-Specific Protein Modification Enabled by Cyclopropenone Reagents.
Sustainable Production of Reduced Phosphorus Compounds: Mechanochemical Hydride Phosphorylation Using Condensed Phosphates as a Route to Phosphite
Bacterial Phosphate Granules Contain Cyclic Polyphosphates: Evidence from 31P Solid-State NMR.
– Journal of the American Chemical Society
Protein-Protein Conjugates: Tyrosine Delivers.
Let's Make White Phosphorus Obsolete
Identification of Reactive Intermediates Relevant to Dimethylgermylene Group Transfer Reactions of an Anthracene-Based Precursor
Organoiron- And Fluoride-Catalyzed Phosphinidene Transfer to Styrenic Olefins in a Stereoselective Synthesis of Unprotected Phosphiranes
– Journal of the American Chemical Society
Phosphinidene transfer reactions of anthracene-supported phosphinidene transfer reagents
– ABSTRACTS OF PAPERS OF THE AMERICAN CHEMICAL SOCIETY
Orthophosphate and Sulfate Utilization for C–E (E = P, S) Bond Formation via Trichlorosilyl Phosphide and Sulfide Anions
Synthesis of acyl(chloro)phosphines enabled by phosphinidene transfer† †Electronic supplementary information (ESI) available. CCDC 1882890–1882892. For ESI and crystallographic data in CIF or other electronic format see DOI: 10.1039/c8sc05657a